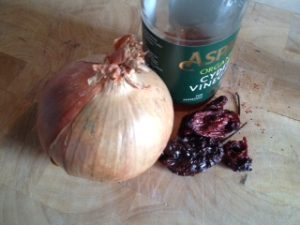 Lauded as one of the super-roots trinity alongside garlic and ginger, onions are on our daily requirement list for optimal health. At the kundalini yoga summer and winter solstice celebrations, they would serve up onion-heavy 'Solstice Hot Sauce' along with the kitcheree.
Here's what they say about that Solstice Hot Sauce… it does more than just spice up the mung beans!
Onion Recipe
'Now this recipe I am giving you, write it down somewhere. It is Ayurvedic, it is the most ancient, ancient time recipe that people make to get out of cold, to get out of fever, get out of lot of nonsense.
'Chop raw onion. You know one raw onion a day can keep you as long you want to live? Are you aware of that fact? One raw onion a day can take care of man's every problem. One raw onion a day is equal to 10 apples plus a lot of zucchini. I am not kidding. I am just telling you what exactly it is.
'So take a big bucket of chopped onions and – you know this server spoon? – nine server spoons of crushed chilies, red, Then apple cider vinegar – five cups will do. You can add little salt if you are crazy about salt. Normally we don't add it. And concentrated tamarind – two bottles. In case you don't get tamarind, you can take half a bucket of lemon with skin.' (Excerpt from KRI International Teacher Training Manual Level 2 • Life Cycles & Lifestyles, p98)

And in case those vast quantities seem a little generous, here's the 3HO Solstice Hot Sauce recipe:
Ingredients:
3 large onions, chopped
¼ cup dried crushed red chiles
8 ounces tamarind concentrate
16 ounces hot water
1 ½ cups sesame oil
1 tablespoon turmeric
10 whole small dried red chiles
2 cups apple cider vinegar
Instructions:
Put the onions in a large bowl. Sprinkle with the crushed chilés. Melt tamarind concentrate in hot water. Add sesame oil and diluted tamarind to onions. Sprinkle with the turmeric. Add the whole chiles and vinegar. Stir and cover. Let sit overnight or several days for the fullest flavor. Store in the refrigerator. The sauce will keep a long time and get better and better. Yields 2 quarts.