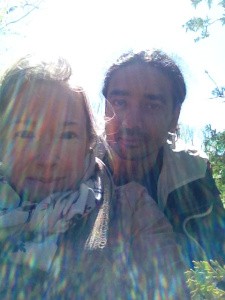 Our trip to Ontario had a lot of highlights – what a deliciously beautiful part of the world. But one of the shiniest was a class with one of my favourite kundalini yoga teachers, Sat Dharam Kaur. I've guzzled so many of Sat Dharam Kaur's videos on YouTube, and recommended those same videos to dozens of friends. Apart from being a fantastic and extremely knowledgeable teacher and naturopath, it's thanks to her that the Healthy Breast and Beyond Addiction programs exist – so I was pretty chuffed that Owen Sound, home to her studio, Trillium Healing Arts, was on our agenda.
We stayed at a gorgeous little Airbnb in Chatsworth (*sings praises a-plenty!*). It's a 15 minute drive south of Owen Sound, so not tooooooo tough to catch the 6.30am Wednesday class start. Sat Dharam Kaur taught the frisky 10 Bodies kriya – a great morning workout, and then, after finding out that we'd come from London to see her, invited us to stay for a taster of the Beyond Addiction program that she was teaching. The group was mid-way through the nine-day intensive program, and I caught the self-reliance module.
The glimpse I was lucky enough to catch was DEEEEEP work – delving into our limiting beliefs and replacing them with new ones. We did the kriya for self-reliance and a meditation to clear karma. We learnt ways that we could self-parent, rather than running on deeply entrenched unconscious patterns instilled in our early years. We looked at our triggers to addictive behaviour, what emotional yearnings lay at the root of these, and how we may address them in a healthy, clear way. WOWEEEEE. This course contains some powerful juju. One of the program participants – a kundalini yoga teacher – had recently completed a Beyond Addiction program, and was doing it all over again straight after as she found it so valuable and rich. High praise indeed.
It was a supersonic day, and I'm so glad to be drawn to Owen Sound – there's so many beautiful gems gleaming in this area – the stunning Inglis Falls and Indian Falls, the Bruce Trail that leads you through forests peppered with forget-me-nots and trilliums, the endless stretches of Sauble beach and some beautiful views out across Lake Huron.
Thank you Sat Dharam Kaur and your fantastic team of Trillium Healing Arts teachers! Please come visit us in the UK soon! 🙂