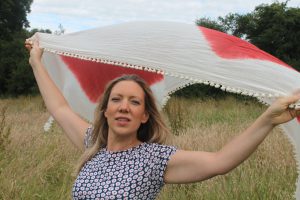 Anand Kirtan teaches yoga and makes music in rural Leicestershire, where she moved with her husband and three sons to escape hectic London life. Here she tells us about her sudden awakening, her favourite kriyas and how devotional music has guided her…
How did you get into kundalini yoga, Anand?
I woke up from the maya quite abruptly and violently in 2009 after I'd had my third son, and quit my job to study and teach astrology. It was in 2013, after I saw Deva Premal and Miten perform, that I fell in love with sacred music and mantra. It literally opened up my heart so wide and then all the songs and music came pouring out. I'd been a musician all my life and so had my husband Tom, but for the first time, we started writing songs and playing music together. We started to work with yogis, singing at their workshops and events. I signed up to teacher training at Karam Kriya on a whim having only practised kundalini a handful of times at festivals. I was just really attracted to all the chanting and mantras. At the time I was thinking that it would be a good personal journey for me – I never intended to teach at all. Having only just finished the year of training, I find myself already teaching six classes a week from my small garden studio. There has been an influx of local people who are going through some challenge or illness, who are ready to activate their own peace and healing.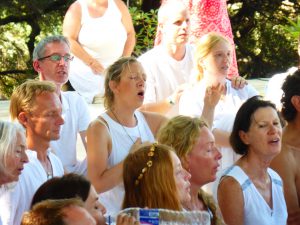 How has kundalini yoga changed your life?
2015/16 with Karam Kriya teacher training has been life changing for me. The first time I ever taught was sadhana at Shiv Charan Singh and Satya's Quinta Do Rajo ashram in Portugal. The sun was coming up, turning the yoga room a deep indigo gold as 30 yogis meditated in front of me, hands in prayer position. It was beautiful energy, celestial and humbling, a real 'Ah THIS' moment for me.
I've received two spiritual names: Ananda Sarasvati from Deva Premal and Miten in Corfu and Anand Kirtan from 3H0. Both names vibrate similarly as the blissful one who sings conscious music and writes poetry and songs. It's given me a reminder of who I've shown up to be in this lifetime. That awareness gives me a sense of calm and acceptance, less sense of striving.
Before the teacher training, I was searching so hard to find a sense of freedom and truth. I was looking for it everywhere. When I first started the kundalini training, I was also studying tantra and conscious sexuality and at the time I weighed up the two disciplines and really rebelled against the 'rigidity' of the yoga, the head covering, the practice and the attention to detail. My ego was way too flattered by the attention and validation it received in the tantric world. I spent six months thinking I'd made a mistake with kundalini yoga and that I'd inadvertently joined a cult, and then I went to Portugal, quit tantra (except white tantra) and gave up needing the outside validation and attention that had coloured my life. Really liberating. As with everything, I had to go through it to come out the other side.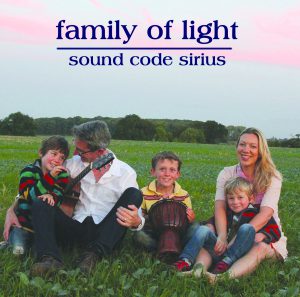 What does your yoga practice look like now?
I practise a kriya and meditation every morning at 6am. For many years, my children (aged 7-11) were my sadhana and I couldn't manage anything else. But now, I really need to allow myself an hour of time and space to practice before the house wakes up. I am teaching myself to read the Japji, with the help of Snatam Kaur's CD and book Original Light which is beautiful.
I have found the massive overhaul of my diet the biggest challenge. My body will now not physically accept meat, alcohol, sugar, dairy and wheat. But my cellular memory and personality still remembers how much I used to like all those things and is not prepared to give them up without a struggle. Shiv says if you get the diet right, you're 90% of the way there! So I am using the 40 and 90-day practice to change food habits for good and this is helping. I eat a heck of a lot of quinoa though!
What's your favourite kriya?
My favourite kriya is the Movement Relaxation Series that my teacher Angad Kaur taught me, where you dance gently to high vibrational music and then place your palms gently all over your body to connect hands to heart. It's so graceful and loving and is perfect for self-compassion and people who need the space to feel good and appreciate their own body.
What's been the most powerful practice for you?
It's all about the subagh kriya and kirtan kriya for me. I always come back to them, either separately or together in combination. The kirtan kriya has calmed me right down and allowed me to find increased neutrality. It has definitely worked positively on my frustration and impatience levels. The subagh kriya for abundance and prosperity has made me value myself more and appreciate the rich abundance of life and how lucky I am. I feel more grateful for the people in my life and more appreciative of them, less judgemental. Opportunities are opening up all around me now, as if I've just found the key to a door that I'd been head-butting for 10 years. These changes are hard to separate in terms of cause and effect from the all-round raising of consciousness I have experienced this year.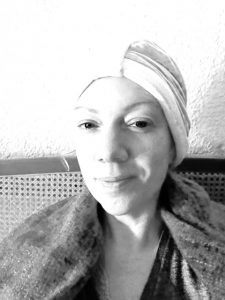 Five-second round…
Fave quote? Not all those who wander are lost.
Book? Harry Potter for sheer magic and the pleasure it gives my children.
Place? Arillas In Corfu is very special to me, particularly the Gayatri Mandir.
Teacher? I sit at the heels of my teacher, Shiv Charan Singh, in Portugal, a couple of times a year to study Karam Kriya numerology. I am humbled to be in the presence of mastery. I also take yoga lessons with the wonderful Dr Japjeet Rajbir Kaur.
Music? I adore Jai-Jagdeesh and the richness of her music and voice. I love sacred music full stop, and listen to it all the time, but there's something about this beautiful artist that I really tune into.
Breakfast? Im a big fan of watermelon, which I juice with lemon, cucumber and mint. In winter, I tend to have smoothies made with homemade hemp milk or porridge with mashed banana and cinnamon.
Find Anand and Tom's music at soundcodesirius.com  and email her at ccquinn22@yahoo.co.uk for details of her classes