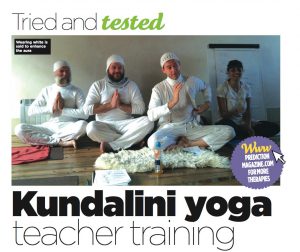 I'm still on a prolonged Marie Kondo mission of decluttering my life. It's a life-long commitment I think. And as I was sorting through and deleting the files on my Mac, I came across this old retrospective magazine feature about my level one kundalini yoga teacher training experience. Reading it totally warmed the cockles of my heart – what a journey, not only within that year of training, but also in the years since then! So here it is, typed up…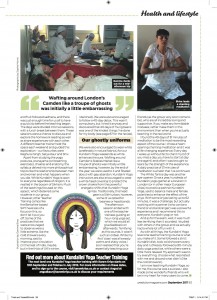 Since my first yoga class, I've wanted to become a yoga teacher. However, it wasn't until I happened upon the delights of Kundalini Yoga about five years ago that I took the plunge.
Kundalini Yoga is a mélange of kriyas (yoga postures), chanting and meditations that stimulate the dormant Kundalini energy at the base of the spine and drive it up the body's central channel, clearing the energy centres as it goes and paving the way to a realisation of one's infinite potential.
The Kundalini Yoga teacher training program consists of 12 intensive practical weekends, usually one a month. You must attend each weekend to pass the course and you have two years to complete the course. As well as the weekends, there's a substantial amount of homework, a White Tantra day to attend, a 40 day meditation that must be recorded in a journal and an exam (I thought I'd seen the last of those when I left uni!). However, compared to the British Wheel of Yoga's three-year teacher training course and the Shivananda four-week intensive programme, Kundalini Yoga provides a happy medium.
Karam Kriya at London's Alchemy
I signed up with Karam Kriya run by author and teacher Shiv Charan Singh (affectionately known as Shiv) and his wife Satya Kaur. I chose this school for convenience, as it was based at one of my favourite spots; London's spiritual mecca, the Alchemy Centre in Camden.
The weekends were intensive, starting at 5am each day with a morning sadhana, which consists of a reading of the Japji, followed by a Kundalini Yoga set and polished off with half an hour of devotional chanting. The morning yoga sets were guided by a different trainee teacher each Saturday and Sunday. My turn to lead happened terrifyingly early on in the course. However, any blunders were graciously and compassionately forgiven in the feedback session afterwards.
The eye-wateringly early start aside, these morning sessions were invigorating and, as anyone with the stamina to do yoga at the crack of dawn will tell you, gave me a real sense of achievement. However, trekking to Camden at 5am on a freezing winter's morning sometimes proved impossible and the alarm clock would be reset to join the group at 9am in time for the morning classes.
A communal breakfast of porridge and fruit followed sadhana, and there was just enough time for us all to have a quick kip before the teaching began. The days were divided into two sessions, with a lunch break between them. These sessions were a chance to discuss and explore the homework reading as well as share experiences with each other.
A different teacher trainer held the space each weekend and guided this exploration – our favourites were Raghurai Singh, Satya Kaur and Shiv. Apart from studying the yoga postures, pranayama (or breathing exercises), chakras and anatomy, the syllabus delved into more philosophical topics like the relationship between men and women and what happens when you die.
While Kundalini Yoga is open to everyone regardless of religion, it is nestled in the bosom of Sikhism. Much of the teachings focused on this aspect, which deterred some students in our group. However, other Teacher Training camps like the Berkshire-based SKY have less of a focus on this, so don't let it put you off. Some of the practices that we were encouraged to observe were a little extreme, like the cold showers every morning, said to improve your circulation (in the heat of India, maybe, but in the thick of UK's winter, I declined). We were also encouraged to follow a 40-day detox. This wasn't compulsory, but I tried it anyway and discovered that 40 days of mung beans was one of the kindest things I've done for my body.
Our ghostly uniforms
We were also encouraged to wear white (preferably in natural fabrics) for our Kundalini Yoga weekends as white enhances the aura. Wafting around Camden's Stables Market like a troupe of ghost initially took us out of our comfort zone, however, by the end of the year, we were used to it and floated about with gay abandon. Kundalini Yoga instructors are also encouraged to wear a white head covering to protect the crown chakra from the powerful energetic shifts that Kundalini Yoga ignites. Traditionally, this head gear is a Sikh turban, however, some of us opted for beanies or head bands. The afternoon session ended with one of the teacher trainees guiding an hour-long yoga set, which we would all give feedback on afterwards. Terrifying as this sounds, it wasn't such an ordeal. While my first 'class' was all sweaty palms and shaky voice, I soon realised that you're essentially teaching your friends (as the group very soon come to be), who are all incredibly loving and supportive. If you make any formidable mistakes, rather make them in this environment than when you're actually teaching in the real world.
I found the 40 days of 31 minutes of meditation to be the most rewarding aspect of the course. I chose a heart-opening chanting meditation and it was a life-changing experience. Every day I woke up without fail to chant my bit (if you miss a day, you have to start at day one again!) and often I was brought to tears by the strength of the experience. A daily practice of 31 minutes of meditation is a habit that I've continued. The White Tantra day was another eye-opener. Once a year, hundreds of Kundalini yogis gather at a location in London (or in other major European cities) to practice partner Kundalini Yoga, said to balance male and female polarities to enhance the effect of the kriya. With some kriyas lasting up to 62 minutes, it was a challenge, but actually working with a partner (who can be a friend or a total stranger) was a powerful experience and I recommend this to everyone, Kundalini yogi or not.
And as for the exam, well, it was much less terrifying than it sounded. I studied with others in the group and we actually had a whole lot of fun with it.
As with all things, the Kundalini Yoga level one teacher training course is what you make of it. Some followed a strict Kundalini diet, took cold showers every day and ruthlessly followed a 90-minute daily yoga practice, while others were a little more relaxed. My approach was to try everything, choose what resonated with me and discard what didn't (like the cold showers!).
I am now teaching Kundalini Yoga, so for me, the course was a success. I also made some wonderful friends who will be in my heart for many years to come.
PS There is sadly no more Alchemy Centre in London and Karam Kriya's level one teacher training now includes a week at their ashram in Portugal. And I'm a total cold-shower convert now!
Sat nam x