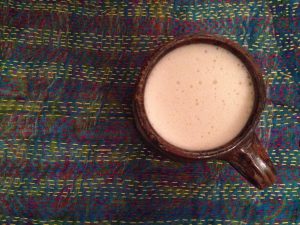 Hot golden milk – aka turmeric milk – keeps your spine, brain and nervous system strong, lubricates your joints, gets your skin glowing and breaks up calcium deposits in your body. In other words, it's an elixir of everlasting youth!
The golden milk recipe in The Aquarian Teacher manual uses dry turmeric, but I usually buy it fresh and chop it up finely. You can get fresh turmeric root from most Asian stores. When we're in Zimbabwe, we pull it up straight from the garden! YUM. Despite the recent lead scares, turmeric is still AMAZING, so just source yours sensibly.
Here's a vegan golden milk recipe – super-easy, nourishing and deliciously sweet depending on how many dates you want to use. Experiment with the quantities. I'm one for chucking in a handful of this and pouring in a slosh of that – and you can definitely do this with golden milk!
You will need:
1/2 tsp (or 1cm freshly chopped) turmeric to support your joints and spine, and nourish your mucous membranes and skin
Enough milk to fill a cup. I love coconut milk for this, but nut milks are also delish.
3-4 dates to tone your digestive system and energise you
5 almonds for their vitamin B and protein
A coin of ginger for a warming kick to support your nervous system. Very soothing if you're on your moon cycle or if you have a cold
How to make it:
In a saucepan, boil the turmeric in a little water for 10 minutes until it cooks/ thickens to a paste. Then add in the milk, dates, almonds and ginger and bring to the boil. Pour into a Nutribullet or blender and whizz together. If you don't have a blender, substitute the dates with maple or agave syrup, and almonds with 2 tbsp almond oil.
And enjoy. It doesn't quite do away with the need for hot chocolate in this world, but golden milk makes a very worthy alternative.
Sat nam x