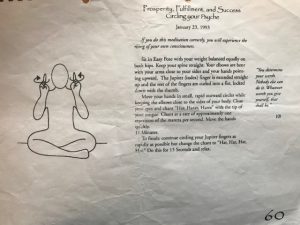 I refer to Prosperity, Fulfilment and Success Circling the Psyche as the helicopter kriya, not just because I'm whirring my Jupiter/index fingers around like a pair of choppers, but because, well, this meditation gives me serious lift-off!
Following on from 90 days of mega prosperity in the Subagh Har kriya, this 11-minute meditation had big shoes to fill. And 40 days of it certainly dipped me into a different flavour of prosperity to its mega-abundance-generating predecessor. It's a very expansive meditation – at the end, after you've whizzed your Jupiter fingers at lightning speed chanting 'Har, Har, Har' for 15 seconds and taken a deep inhale, wowee, it's pretty cosmic.
The comment on this meditation is that through this practice, we'll feel our consciousness rising. Yes, that sounds about right. And with that expansive rising comes an almighty whack of gratitude. It wasn't so much a conscious generation of gratitude as an instinctual response to the sense of expansion and fullness and connection that completes the Prosperity, Fulfilment and Success Circling the Psyche.
In terms of prosperity, the sense of gratitude generated at the start of my day flooded out into it and that in itself recognised prosperity in interesting places. I felt very blessed throughout the 40 days, very full and content, and I certainly found myself in fun and interesting environments – including a launch party at the top of The Gherkin with views of London sprawling around me – and meeting and catching up with some very lovely, like-hearted people. And during these 40 days, Evolve invited me to come and teach a weekly class too. Yay!
So yes, Prosperity, Fulfilment and Success Circling the Psyche does what it says on the tin, and I really enjoyed this journey. As always, I'm grateful, grateful, grateful for you, kundalini yoga.
Sat nam x