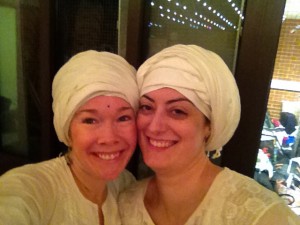 Two words strike a weird dichotomy of excitement and abject terror into my heart: White Tantra. This was my fourth White Tantra, and it was by far the toughest I've been to. Not that you can say White Tantra is ever easy! Nish and I usually partner together, but this year he had to work (that's the excuse 🙂 ). So I paired up with my dear friend Louise who has never experienced a WT day. Well, that was a baptism of fire if ever I saw one.
Kundalini gathering
I love White Tantra because there's such a sense of community. All the kundalini yogis in London and further afield come out in full force for a day of partner meditations. It's a great place to reconnect with friendly faces that you haven't seen in a while – many since the previous year's White Tantra. It's a very challenging but mutually supportive experience. Yogi B says that a meditation done in White Tantra has tonnes more of an effect than one done solo, and that's amplified by the 500-or-so people meditating around you. So basically White Tantra is like chucking your conscious and subconscious minds into a seriously heavy-duty washing machine.
The kriyas…
In the morning, we did three 62-minute meditations… the second one where we had our index finger on our partner's third eye was OUCH on the arm but also very amazing. After our mung and salad lunch, we had a 31-minute 'meditation' of lying down – hurrah! – listening to Nirinjan Kaur's Wah Yantee. This was followed by two more 62-minute meditations: one where we grasped our partners wrists and leaned back 60 degrees chanting Har Har Wahe Guru in call and response, and one where we pressed our palms together with our partners, with our eyes closed.
I came out feeling totally spaced out and not sure what had happened (as usual), but I felt AMAZING the next day. And that's it for another year! Whoop.
Sat nam.