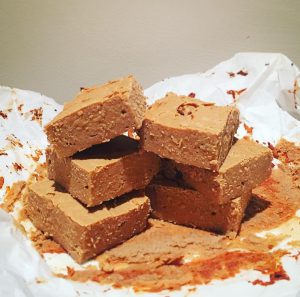 I asked Bachanprem what a blondie was, and she told me it's the opposite of a brownie. Being a major brownie fan, I'm not sure how I feel about this. But these little squares of caramel-coloured delight were PURE JOY. Here's the recipe so you can bask in their unbridled bliss too 🙂
For vegan blondies, you will need:
1 can soaked chickpeas
1 cup buckwheat flour
1/2 cup cashew butter
1/4 cup agave syrup or honey
1 scoop vanilla protein powder (I love sunwarrior's blend)
Cinnamon, vanilla, lucuma (as much as liked)
1/4 cup almond milk
Blend all together in a food processor and add more almond milk or water if necessary; the consistency should be sticky though and not too runny.
Bake in preheated oven for about 25-35 minutes at 150•C; a knife should come out without sticking dough.
Enjoy ?
We will! Thank you Bachanprem.
Bachanprem is taking orders for her raw, vegan, made-with-love catering! Email her for a batch of freshly made raw vegan wonders at jovana.konopka@gmail.com and follow her inspiring foodie posts on @joyfulkosmos