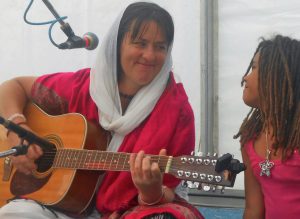 Siri Sadhana teaches all across Europe, but if you haven't come across her classes, workshops and retreats, you'll definitely have heard her music – she's released five Western Gurbani albums. Now training for the first ever KRI kundalini yoga Level 3, here she tells us about her all-time favourite ky practice, enrolling her 13-year-old daughter at the Miri Piri Academy (ky school) in Amritsar last month and being a yogini mum…
How did you get into kundalini yoga, Siri?
I had a particularly natural and long labour and birthing with my daughter Aloka and it left my body discombobulated. I was depleted on many levels. The Women & Health centre had a creche running alongside a kundalini class. From the very moment we chanted 'Ong Namo', I knew right there and then I was blessed to share this technology.
What's been the most life-changing practice you've ever done?
Sodarshan Chakra Kriya. I struggled with it for so long – I can't tell you how many times I stopped and started it. Everything takes its own sweet time – the youth and willful fire that drove me before now was never able to conquer Sodarshan Chakra Kriya, and how perfect that was. I truly thank God for that. It's only now I can have reverence for its magnificence, mastery and intelligence. Now I understand this kriya was my teacher, revealing, unmasking, stripping away the untruths so I could start planting the seed that delivers me to me.
When I started the Level 3 mela last year, one of the requirements was a 1,000 day practice. I buzzed Sodarshan Chakra Kriya, I had my name all over it. It moves the duality, pumping the navel cuts through the darkness and gives great pranic power. I have been experiencing good physical health through purifying karmas and subconscious blocks – it opens us to a possibility to start anew and it has certainly been clearing out old programming. Tasks that previously felt daunting became effortless.
This past year has bought major shifts, not always easy to digest. My intuition faculty had a reboot. My sense of identity is rebuilding. I have been supported to manifest on many levels. Cleansing the currents of nadis interweaves so beautifully with the nervous system, a core verticality has arisen. My daughter studying in India has provided the opportunity to start redefining the woman, and renegotiating the mother within. I continue to challenge and suspend the internal compromiser and pleaser, and work with my desire to be bravely authentic in relationship and detachment.
Sodarshan Chakra Kriya is known as a master kriya, or highest kriya, it's the mother of all mothers. Bhagat Jaidev, a 13th century saint and poet, is said to have practiced it and wrote about it in the SGGS p.1106 (scroll down on the link). Yogi Bhajan said: 'This kriya was a kriya from the last tribe of Christ in Kashmir'.
What's your go-to kriya?
The Pituitary Gland Series or The 10 Bodies Kriya. They are both such good all- rounders. They sufficiently challenge limitations, move and optimise the flow of energy, and get my whole body moving and yet also have enough moments of stillness.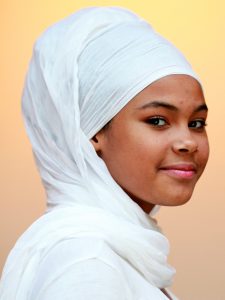 Aloka's just started at Miri Piri… what's it like there?
Miri Piri is a big place, 17 acres, a short ride from the Golden Temple. It has around 130 international students. There is a large sports fields, quite simple buildings. It's hot with many flies. It has a strong discipline; up early with Japji, yoga, physical education, meditation. It upholds strong principles in cleanliness with regular inspections. Its mission is to train the future leaders, teachers and healers of tomorrow through rigorous discipline, quality academics and a strong sense of self. Witnessing the Miri Piri Kids is very inspiring, they hold themselves in such calibre and presence. They are tomorrows leaders. Yogi Bhajan founded the school in 1977 as a place for children to excel in a spiritual environment. He understood children needed this training ground.
What hopes do you have for Aloka's experience of Miri Piri?
To develop endurance and stamina to cope with life's dualities. My prayer is she will find strategies to move through blocks and challenges and get carried to meet her destiny. The most important yet difficult process for me as a mother was to allow her to make her own mistakes. It's so vital for their growth, yet we are programmed to nurture and protect. I understood she needed space to grow into her individuality. Yet living in Kings Cross, we witnessed the daily darkness of the inner city gang culture – unleashing her into the streets created turmoil. Something within Aloka was fighting and kicking to move into the next phase of her development.
The ancients understood how the adolescent child needs to run with their peers morning, noon and night. They need rites of passage, to push boundaries and experience a physical endurance to help them cut through the maya. Initiation provides a safe space and container for that. We yogis know that by coming through the struggle and resistance in a kriya, we are able to meet our substance, grit and direction. As Aloka moves from girl to woman, it's her peers and mentors that provide that space, not me as mother. In our culture we are not so awake to be able hold that space for our teenagers. The shadow can act out quite dangerously.
Aloka has grown up with a lot of ceremony – she has been emersed in meditation, dharma and sangat. Her soul clearly chose the Miri Piri experience. It was from the many generous donations of the kundalini sangat that she can have this wonderful experience [Siri and Aloka raised the school fees through crowd-funding]. I am very humbled and grateful that with all the support, I have been able to facilitate such an enriching experience and possibility for my daughter. She is among wonderful peers, who are all doing the same thing. The peers at Miri Piri become a family together. They eat, sleep, work and train together. They have the space to work out issues at a peer level. I entrust a faith that Aloka will learn to walk strongly and nobly into her truth and shine as the beautiful light she is.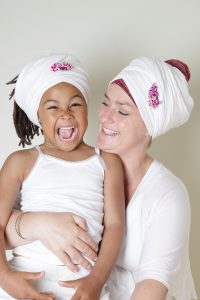 How have the kundalini teachings influenced your role as a mother?
Massively. I started out with values in attachment parenting. As Aloka grew, the Rudolf Steiner system nurtured our relationship. Alongside this, I was organising Aquarian sadhana. I used to carry Aloka sleeping on my front, and my guitar and my drum on back. Getting us both to sadhana at 5am was the biggest kriya! My soul had a lot of struggle through those times.  Aloka used to mainly sleep soundly through it all. She could often sleep anywhere she was bathed in the technology.
Yogi Bhajan says that we have karma with our parents but also with the self. The teachings have nurtured healing, and a dharmic alternative for both myself and my daughter. My family and Aloka's father weren't present, but the teachings and mentors were. I entrusted and committed to that. Shiv Charan Singh has mentored and navigated me toward a reference. The journey of motherhood is so changeable. I am still learning to be a flexible yogi and surf the waves that come. The teachings have been the compass and guide. They remind us that 'we shall serve something in life', we just have to choose what that service is. God has come through the focus of these teachings, it's a mirror for the death of ego. Since finding the teachings, and with Shiv's guidance, I understood the contract with my soul and the universe – it's like I had been waiting in the wings for eternity. As beautifully modeled through my teacher, 'slow and steady wins the race', time, longevity, and commitment to nailing the ego and serving a greater focus brings us to destiny.
As a mother I reflect, and work to not dwell on past mistakes. The more I align to the purity and this ancient lineage, the leverage moves the immovable, then this incredible force is at one's back every step of the way, and this beautiful legacy gets shared and serves all.
Yogi Bhajan says as parents, we are our children's first teachings, he said: 'Give the child trust in his or her own identity. Give children their own security, a child is born to you so that you can prepare him to face time unto Infinity. Give them the true identity of themselves and you will have angels on the Earth.'
And of course the teachings have influenced Aloka…
Aloka was often present on level 1, level 2 and now even level 3 teacher training modules. On one of the level 2 modules I was organising for The Karam Kriya school, I watched Aloka at the age of 11 intensively listening and watching Shiv teaching. I was very struck by the gaze she held toward him, it was a deep and all-knowing stare, I had not seen her look in such a way before then. There and then she told me she had decided to ask Shiv for her spiritual name, which he gave her later that year at the European Yoga Festival in France: Kiranjot Kaur. I could see she had heard an ancient truth in what Shiv had said. It had penetrated deeply into her soul. She was ignited by these teachings. It was only days after receiving her spiritual name that she decided to go to Miri Piri Academy.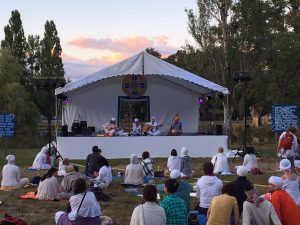 Five-second round…
Life philosophy in a tweet: Keep up and you'll be kept up.
Favorite quote? 'May I walk in the company of my own holiness and fall in love with my soul, and be bewitched by the breath of life so that I can enjoy my fulfillment forever.'  Yogi Bhajan
Film? The Pursuit Of Happiness, Forrest Gump, or any film with Denzel Washington!
Book? Grace And Grit, Ken Wilber
Place? Mali desert, West Africa
Teacher? Shiv Charan Singh and Sobonfu Somé 
Music? Kamari and Manvir, I love to dance with them! Sada Sat Kaur's voice is very rich. Something beautifully simple and unique in her rhythm and vocals
Breakfast? Green veggie smoothie
Indulgence? CHOCOLATE (I'm with you there, Siri 🙂 )
Siri Sadhana holds Aquarian sadhana and numerous classes all over London. Visit sirisadhana.com for details. More on Siri's beautiful music in a future post…