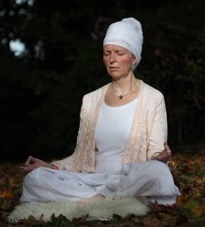 Manchester-born Sat Nadar lives in South Yorkshire at Purusha where she works at the Sahej Academy with Hari Har Ji on kundalini yoga teacher trainings and workshops. Her great loves are cooking, watching movies, the outdoors, mountains, sea, woods, and dance, especially folk dance and circle dance. So here she is, the lovely Sat Nadar Kaur…
How did you come across Kundalini Yoga, Sat Nadar?
I had been working in Bangalore, India, in a children's home. When I left, I decided to take the opportunity to travel around, and of course when you're travelling on your own, you meet many people. I had always been a searcher, and it was in India where I explored Reiki, healing, Vipassana, meditation, yoga, Osho, ashrams. One of the fellow travellers I met was a kundalini yoga teacher from Germany and she just wouldn't stop talking about Yogi Bhajan. Whenever I saw her she would speak about him, I had no idea why – whenever she saw me, she would mention his name. Then, when I returned to the UK, my dad was diagnosed with a brain tumour and only had a limited amount of time to live. The shock of his death brought me to my knees and in the depths of despair – I felt this connection to Yogi Bhajan. I looked for a class in Manchester, and that was that!!!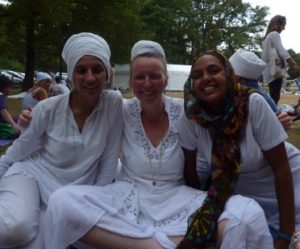 How has it changed your life?
Kundalini Yoga let me let go of years of grief and sadness. I was always so full of fear. It allowed me to know myself. It opened me up and let me see who I really am. It has been, and still is a process of shedding and dissolving. To me, the path of Kundalini is always revealing itself, moment to moment, to know the reality of the soul, and that we all have a destiny to fulfill.
What does your practice look like now?
The meditation I am currently practising is Sodarshan Chakra Kriya – this is one I always go back to. Also chanting/listening or playing Guru Guru Wahe Guru Guru Ram Das Guru has been the mantra that has always been with me since I began in 2008.
What have you found to be your most effective practices?
My practice gives me clarity, and helps me feel balanced. The most effective kriyas for me are navel kriyas. I also have found Pittra Kriya and the Kriya To Relax And Release Fear transformational. Other things that have helped me has been living in a yoga community for two years in France. Living in the small community, in the mountains was a unique experience . The work seemed to burn something in me that was not needed anymore  and the relationships within the sangat supported me to become more myself. My current situation is living with my teacher, which is a constant dance and practice that can transform too.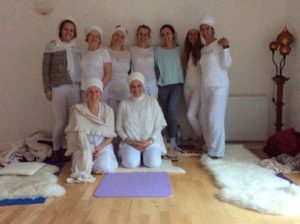 What do you love most about your work as a kundalini yoga teacher?
What inspires me are the students I am lucky enough to teach, in classes and on the teacher trainings as part of the Sahej team. To be part of the process of creating teachers who want share and uplift others, sparked by their own practice. This has led me to set up a training at Blissland in Cheshire next year with Hari Har Ji, my teacher. It's exciting to deliver the course, to create a space for others to feel supported through their own process of discovery.
Another thing that excites me is the expansion of the teachings, reaching out to people that may have not the opportunity to experience it. The Guru Ram Das Project is growing outside of London, there are so many students/teachers in the north of England and Scotland who are beginning to teach kundalini yoga in many community projects and charities.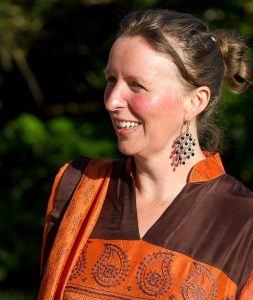 Book? Entering The Castle – Caroline Myss
Breakfast? Porridge and fruit
Places? Findhorn and Glen Etive in Scotland. The lakes and Bardolino in Italy. India – still places to explore.
Song? Ride On by Christy Moore
Fave quotes? 'Kindness knows no defeat, Caring has no end, And touching a persons heart is the only language God knows.' – Yogi Bhajan
'In the end a person tires of everything except heart's desiring, soul's journeying.' – Rumi
'This Day Will Never Come Again.' – Thomas Merton via Caroline Myss
For more info on Sat Nadar's classes, workshops and teacher training programmes, visit sahej.org, kundaliniyogamanchester.com and kundaliniyogayorkshire.org