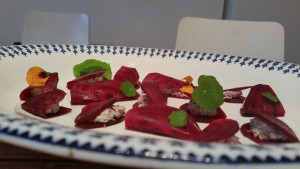 The art and yoga workshop this weekend was a pirouette of loveliness – studying the contours of the external world with charcoal and paintbrushes, followed by an exploration of internal landscapes with some supersonic kundalini kriyas and meditations… and seamlessly stitched together with wholesome and sublimely yummy veggie snacks and lunch. Johanna of Art Brixton was responsible for the amazing catering, which included RAW BEETROOT RAVIOLI! Can such a delicious dish exist? YES! And thanks to Johanna, here's the recipe…
The original recipe calls for pine nuts but I have made it many times with sunflower seeds or a mix of the two and sometimes used cashew nuts. Experimenting rules. I also soak my seeds for several hours before using them, it comes down to personal preference.
For the "cheese":
1 cup of sunflower seeds (or 2, or 3…)
zest of lemon
lemon juice (to taste)
clove of garlic
cracked black pepper
OPTIONAL: minced shallot, tarragon (or chive works just as well), nutritional yeast – vegan B12 additive, which I often use but not always.
For the ravioli:
Beetroot peeled and sliced into paper thin rounds and marinated in olive oil, salt and pepper (I use lemon juice as well). Marinate for at least 1 hour. I sometimes leave it in a fridge overnight, if preparing for big parties the next day.
Instructions:
Blitz all cheese ingredients apart from herbs if using  (handhold blender, thermomix, nutribullet, mixer, anything will do) and allow to 'mature' for an hour or two. Then it can be kept in the fridge for 2-3 days!  If you are using herbs, fold them into cheese before stuffing ravioli.
Lay sliced beetroot out. Scoop a half to one teaspoon of cheese and place it on a slice. Fold over, voila!
(If you are not finding joy with folding the slices, cover one slice with another and you will have bigger, bolder ravioli)
You can finish the plate of raviolis with drops of balsamic vinegar, scattered chive or tarragon or edible flowers or serve simply on their own.
Bon appetit!