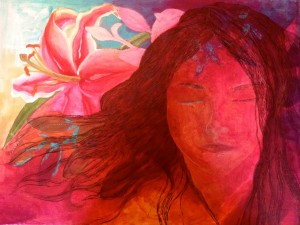 CONNECT TO THE DIVINE MOTHER WITH KUNDALINI YOGA
When: Monday 26 November 2018, 12-4pm
Level: No experience necessary
Where: College of Psychic Studies, 16 Queensberry Pl, South Kensington, London SW7 2EB
The Divine Mother has many faces; The Goddess, Mother Earth, the divine feminine that exists within us all, and even our physical mother. In kundalini yoga teachings, the Divine Mother is the primal force, known as the Adi Shakti, that breathes life through all things, nourishing, teaching and sustaining us. 
In this kundalini yoga workshop, we will be exploring movements, meditations, mantras and breath work to connect with the Divine Mother, honouring this primal force within us and the world around us. It's a profound opportunity to connect to your divine feminine aspect, explore her qualities and honour her essence within you. Those who have a challenging relationship with their maternal line will benefit from the meditations in this workshop.
————————————————————————-
Available to book soon at College of Psychic Studies in London…
————————————————————————-
Release Stress on a Cellular Level with Kundalini Yoga
10am-5pm FULL DAY – Sunday 20th January 2019
An animal, when given a fright and consequent spike in adrenalin, will literally shake it off shortly after the event. Humans tend to keep it in – society doesn't accept shaking as an accepted response to stress. Consequently, most of us carry years of deeply held stress and tension in our body. A combination of dietary and environmental pollutants, as well as the increasing pressures of life post-2012, all impact the levels of stress in our body. With no means of releasing it, it keeps building, resulting in physical and emotional imbalance and disease.
In this workshop, we use the sacred technology of kundalini yoga to slough off deeply held tension from the body. This is an opportunity to deeply relax on every level of your being, to nurture yourself and reignite your body's innate capacity for self-healing and rejuvenation.
Activate your Meditative Mind with Kundalini Yoga
12-4pm HALF DAY – Mon 28th January 2019
We have three minds in kundalini yoga teachings. The negative mind is our protective mind. It plays the role of risk assessor. It's the first mind to jump in on any scenario, and often throws up a barrage of judgements, fears and resistances. Push through the negative mind, and you'll find the positive mind, whose 'can do' attitude drives us forward. It's the optimist, the invincible spirit, the doer. Above the continuous dialogue between the negative and positive minds is the neutral mind, or meditative mind. This is  the mind that can give us the highest point of view on every scenario, taking into account both the perceived positives and negatives. Unbiased, unshakable and inherently linked with our intuition, it's our neutral, meditative mind that can guide us to our soul's destiny. It's this mind that we're strengthening in today's workshop, enabling us to better assess any situation that arises in life, and to realise what you were born on this planet to do.
Clear, Balance and Open the Third Eye with Kundalini Yoga
12-4pm HALF DAY – Mon 11th February 2019
Our third eye, or ajna chakra, is linked with the pituitary gland in kundalini yoga teachings. Our master gland, the pituitary balances our hormones and sleep patterns on a physical level, and on a metaphysical level, it supports our awakening, spiritual growth and development. A clear, balanced and open third eye gives us unwavering access to our intuition, our inner wisdom. It grants us the intuitive capacity to know what to do and when to do it in order to fulfil our destiny in this lifetime.
In this workshop, we work with the technology of kundalini yoga, using kriyas (movements), meditations, mantras and mudras (hand gestures), to focus on bringing our third eye into balance and clarity.
Balance your Body and Mind with Kundalini Yoga
12-4pm HALF DAY – Mon 4th March 2019
Kundalini yoga uses movements, mantras, meditations and relaxation to bring deep balance to the physical and subtle bodies. In this state, we can operate in our optimum state. We are able to clearly recognise the truth of every scenario without being overwhelmed by our projections and perceptions. We are able to meet every challenge with strength, openness and clarity. And most importantly, in this state of balance, we are able to recognise our own divinity, our own infinity.
This kundalini yoga workshop uses sacred technologies to access a state of balance through our body and mind, allowing us to gracefully embody who we were born to be.
Ignite Change in your Life with Kundalini Yoga
12-4pm HALF DAY-  Mon 18th March 2019
When we start practicing kundalini yoga, change in our life is inevitable. This is a powerful technology that works on every level of our being to drive us into a more sensory approach to living, a more authentic way of being, and a deep recognition of our true purpose in life. When we're stuck, blocked and stagnant, and can't see a way forward, the best thing we can do for ourselves is move on a micro and macrocosmic level. In this kundalini yoga workshop, we move in ways to encourage the flow of our life to start pouring forth. Using kundalini yoga kriyas, mantras and meditations, we work on shifting gears to invite the next chapter of our life to begin.
Kundalini yoga is for you, no matter what your age, capability, level of flexibility. All you need to practise is an open mind and willing spirit. You may find some of the movements challenging, but always worth your best efforts. Please wear comfy clothes appropriate for movement. We practice on yoga mats on the floor, however chairs will be available for those who find sitting on the floor uncomfortable.
What you say:

"I've attended Gemma Bliss's workshops and many of her classes. 

She's always very professional, yet extremely warm and approachable. She leads you through a fabulous journey, plays wonderful music, and provides follow up information and meditations. The material and exercises are always highly relevant and thoroughly enjoyable – quite trying at times, but Gemma always seems to know the exact moment to provide encouragement and boost the energy levels!"Emma R, PA