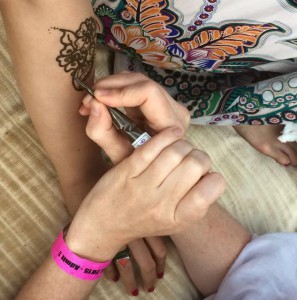 I first came across the exquisite art of mehndi – henna tattoo – while in Goa, where I got my hands and feet painted with beautiful paisley and floral designs formed from a thick brown paste that stains the skin an earthy red. It lasts about 10 days. Being a total boho geek, I was smitten from the word go(a) (sorry!).
Indian weddings
But it wasn't until a few years later when a friend invited me to her mehndi night that I really clocked what henna tattoos are all about. In India, it's traditional for women to gather together before a wedding to be adorned with henna designs… less hen party, more henna party. Before decorating the mum, aunts, sisters, cousins and friends, the henna artist first paints the bride-to-be's hands and feet. In her designs, it's traditional to hide the groom's initials, which the bride must find. If she does, it means the marriage will be blessed with love and passion. There's an incentive!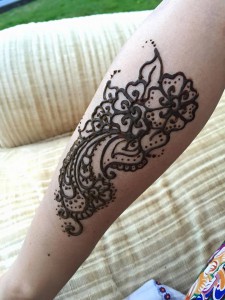 Hen(na) party
Fast forward to last summer and I got to be the henna artist at my best friend's hen party. She had a 'henstival' at a friend's home in the Oxfordshire countryside. It was boho deluxe, with a hippy dress code, festival packs that included incense and face paints, 'Henstival' wrist bands, and the option to get some henna tattoo action!
The tatts are very easy to do. Just get yourself a henna cone from an Asian shop (head to Southall or Alperton if you live in London). Snip off the narrow tip and start drawing on the nearest hand/ foot/ belly/ back. Choose natural brown henna and avoid black henna like the plague – it can contain allergen PPD which apart from giving you a nasty reaction, leaves a permanent scar. If you want to deepen the colour, dip some cotton wool in a lemon juice solution and daub your henna paste with it as it dries.
Here are some pics of my newest convert to mehndi. Kat's a tatt fiend anyway, so not too difficult to convince…