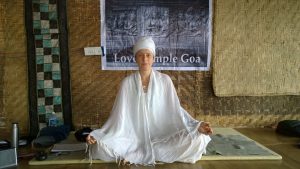 I was so happy to find Antaria teaching morning kundalini yoga on the beach in Kerala where she held the space for a small, sweet sangat. She's living the dream as a travelling yoga teacher (mainly touring India and her homeland Germany), photographer (what more inspiration do you need than vibrant India?!) and eco fashion designer. Introducing the lovely Antaria…
How did you get into kundalini yoga, Antaria?
I started kundalini yoga in 2011. I got a voucher from my boyfriend for some yoga lessons in a small school that I'd never heard of, close to my place. The hatha yoga teacher there told me after my first class that I should maybe visit her colleague Simran. She said: 'That could be something for you.'
When Simran and I first met, she knew I was a yoga teacher who planned to come to her class… and I felt that she is my teacher. After my first kundalini class, everything was pretty clear.
How has it changed your life?
I came home. ?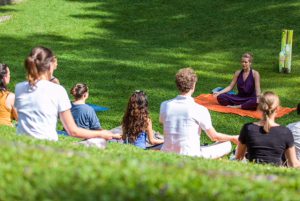 What does your yoga practice look like now?
I practise six or seven days per week. I adapt it according to what I feel I need. Right now, my alarm goes off at 4:15 and I listen to the Japji and a guided meditation. After that, I do a short silent meditation – for me it's really essential – mandatory even – twice a day, to connect completely and become silent. I also do pranayama on a daily basis. Then I do some yogic cleansing in the bathroom, have some tea and start my sadhana.
Also there, I feel what is needed. Right now it's a mixture of maybe four kundalini yoga kriyas a week and classic basic hatha yoga postures for grounding. Yin yoga is often part of my personal sadhana. So mostly from 4:15-7 I do my personal practice.
What's your favourite kriya?
Kirtan Kriya – one of my personal faves and also a favourite kriya to teach because it's amazing when you see the radiant glowing faces afterwards, and the peace in the eyes of my students?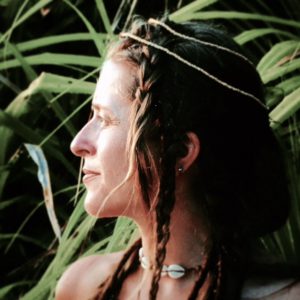 Has adopting your spiritual name Antaria changed you?
My teacher gave me my name – I had to wait a little for that. On the day she told me my spiritual name, the first time I heard it, it was like a very strong energy which arrived with the soundwaves of the spoken name my body. I felt immediately that this is my true name, bringing light to the heart of the people. Also the star Antares is a very huge presence of light in our solar system, way bigger then the sun.
Fave quote? Keep up & you will be kept up. Y.B.
You in a Tweet… Kundalini Yogini and busy bee???
Book? Stein & Flöte, Bemmann Hans.
Place? Home is where my yoga mat is ☀️ India
What's on your altar? Indian Oil lamp, my yantra, stones, candles, flowers, sandalwood, sandalwood powder, bell, singing bowl.
Teacher? Simran Anke Gazda, my kundalini yoga teacher, owner & inventor kundalini yoga dance ttc, Studio für Yoga & Bewegung, Munich, Germany)
Kundalini yoga artist? Snatam Kaur.
Breakfast? Short time: green power smoothie to take away.
Normally in winter: buckwheat porridge with fresh cinnamon, banana and fruits, dates and nuts, maybe some wheatgrass powder or turmeric and coconut milk.
Important: homemade fresh chai (I always bring my fresh spices back from India, vegan chai is my morning ritual on cold mornings).
Summertime: fruits & oats and vegan curd plus nuts and dates. Or a smoothie! Sometimes also some sweet rice.
For more, visit antariayoga.wordpress.com. Find Antaria on Instagram at @antariayoga or on Facebook. She's also on YouTube at https://youtu.be/qcityOQf9Mk. Keep an eye on her blog for her new eco fashion collection