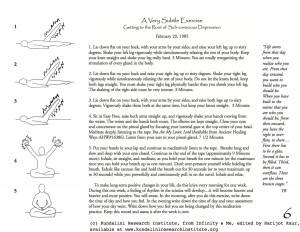 The Very Subtle Exercise kriya gets to the root of subconscious depression. It's super short and simple, and if you want to see its effects in their true juicy kundalini-glory, practice it every morning for a week and keep a journal of your progress. Then you can see the before and after shots more clearly.
I took the one-week challenge and felt so squeaky clean and bright with it, I took it up a notch and continued for 40 days. This is some mighty powerful magic… I've found the Very Subtle Exercise kriya immensely tough at times, refreshingly easy at others, sometimes annoying, other times the most joyful thing to do with my time. And the journey has been very worth it.
During the 40 days, I felt upbeat, pro-active and positive. I felt more centred, which is pretty essential in London where there are people, people everywhere. Packed trains? Pffft, easy peasy! A gazillion places to be, and no time to fit it all in? So fine, I'll walk even slower (and still get there on time? Wow)!
So, in a nutshell, A Very Subtle Exercise is kundalini goodness at its best. But the more I practice kundalini yoga, the more I realise that it's all pretty sublime – pick a kundalini yoga kriya, any kriya, and you'll find it changes your life in some way.
You'll need a song for the last two exercises of the Very Subtle Exercise kriya. I used this: Toon Mayray Laalan and this: http://www.youtube.com/watch?v=8CAj1FH0dIo.
Hope this kundalini yoga kriya brings you abundant blessings 🙂 Sat nam.