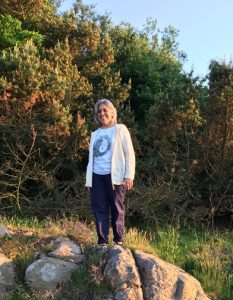 Siri Lakshmi does amazing work. She teaches kundalini yoga full time in East London, UK, and many of her classes are free or incredibly affordable, and very accessible to everyone, including children and people with disabilities. She attributes her bounty as a yoga teacher to a 1,000 day practice of Sat Kriya. Here she is, Siri Lakshmi…
When and how did you get into kundalini yoga, Siri Lakshmi?
I practiced hatha yoga and Iyengar for many years. I injured my knee in a Iyengar class, and the recovery from injury took long time and I also became disillusioned with yoga. During this period I was working in a corporate bank which was soul destroying and decided to look for a way to get out by retraining. The very first therapy I came across was Metamorphic Technique, which was transformative. I trained as a Metamorphic practitioner, followed by another training to become a reflexologist. The two therapies paved my way out of the corporate world. I resigned from the bank and took a few weeks off to evaluate my life. During this time, I went a kundalini yoga class – well, what can I say, it was the most amazing experience. I connected with the KY immediately and was hooked. The first kriya I practiced was the Longevity Kriya, and they mentioned something about 40 days to change your molecular system.
I started to practice Longevity Kriya for 40 days from the following day in 2003. As soon as I started the 40 days, I found another job in the bank, but with better conditions and decided to continue KY in evening. Karen O'Brien (Avtar Kaur) is an excellent teacher helped and guided me to eventually become a KY teacher. After completing Longevity Kriya for 40, I practiced many other kriyas and meditations for 40 days. Then I came upon Sat Kriya, I practiced for 40 days initially because I did not have enough time in the morning. After 40 days I decided to practice for 1,000 days!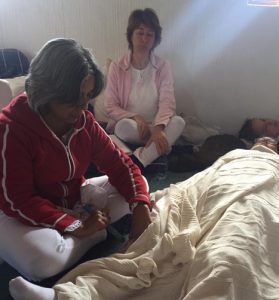 How has it changed your life?
Sat Kriya completely changed my life. I went away for one month to train with Guru Rattana and Guru Kirin in Hawaii. On return, I covered a lot of classes and eventually found work as yoga teacher for Newham Adult Learning Services. I started teaching one class and gradually increased the number of classes to eight. I did not have any intention to become a yoga teacher, but Sat Kriya cemented my energy field and helped me find work. I also started teaching adults with learning disabilities. This was a very new area and a little daunting. I was out of my comfort zone. Working with a variety of different groups of people has taught me many lessons about how to teach and adapt kundalini yoga. I now teach many classes (Neighbourhood Teams, give talks and taster sessions, teach children) and have been teaching in the local parks for four years for the Park Lives programme. I also teach one-to-one sessions, these are usually famous musicians.
I completed all the Level 2 training and found that there is still so much to learn and discover in KY. I have recently completed a kundalini medicine course with Guru Dharam.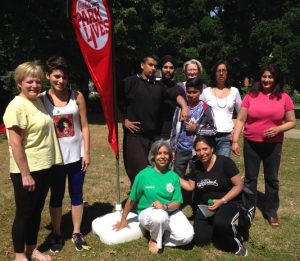 What does your yoga practice look like now?
My own practice is a combination of yoga and meditation every morning for about two hours. The morning practice sets me up for the the rest of the day.
I have just completed a book about Kirtan Kriya and will be road testing the kriyas next year before it is published.
What's your favourite kriya/mantra/meditation?
Sat Kriya remains my favourite in general. Rakhe Rakhaner and Dhan Dhan Ram Das are the two favourite mantras, I can get completely lost in them.
What's been the most life changing practice you've ever done?
Again I have to say Sat Kriya, for 1,000 days. When I started, I was still working in a bank, went to train as yoga teacher and by the time I completed the 1,000 days, I was teaching about six classes. The planet Jupiter did its trick. I have since practiced one other 1,000 days to clear blocks.
Has adopting your spiritual name changed you?
My spiritual name is Siri Lakshmi. My name Indira and Siri Lakshmi are all part of 108 names of Lakshmi. I am used to the name because all three names mean the same and are connected to Goddess Lakshmi! What can I say, abundance in all forms and all around!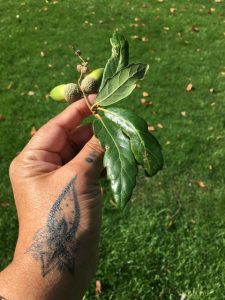 Five-second round…
Fave quote? 'Happiness is when what you think, what you say, and what you do are in harmony' ~ M Gandhi
You in a Tweet… Life is sweet
Book? Babaji: The Lightning Standing Still by Yogiraj Gurunath Siddhanath (15 Jan 2016)
Place? Mount Kailash
Teacher? Guru Rattana, Guru Kirin, Guru Dharam
Music? Jai Jagdeesh and Gurunam
Breakfast? Warm milk, cinnamon, cardamom powder, figs and nuts and cereals
Siri Lakshmi teaches full time in Newham. For information on her classes and more, visit sirilakshmi.com