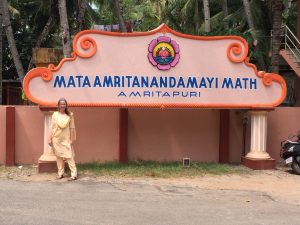 While I'm not a big fan of getting a hug from Amma (see here), I have huge respect for her work. Seva, or selfless service, is integral to everything she does, from hugging thousands of seekers around the world on most days, to helping out onsite when disaster strikes places like Nepal and Japan. And seva is the fuel that runs her ashram, Amrita Puri, tucked away across a bridge on a beach in a small fishing village in Kerala.
Home to more than 3,000 devotees, both Indian nationals and foreigners, the ashram comprises a cluster of incongruous salmon pink sky rise ashram lodgings huddled around a beautifully psychedelic Kali temple. You can stay for as little or as long as you like, and it's 250 rupees (around £3) per person night for a room and full board. 
Our room was on floor 10 of one of said salmon-pink skyrises, and it had a view out across the sea – stunning and would be super peaceful if it wasn't for the incessant blaring of bhajans (Hindu hymns) from loudspeakers tied to coconut trees around the area. They start at 4.30 and continue practically solidly til 9pm. If you visit, bring earplugs! We were assured by various inmates (the unfortunate term for those residing at the ashram) that these loudspeakers were in no way linked to Amma, but were the work of various temples doing their bit for the sacred vibe of the land.
There's a daily program that you can choose to adhere to, with the day starting at 4am with chanting the Lalita Archyana, aka the thousand names of the goddess. Women and men are segregated for this, with women in the Kali temple and men in the darshan hall. This is followed by an hour of meditation on the ashram's beach (when thankfully the blaring bhajans are turned off) – whatever your practice is acceptable so I was able to do my kundalini yoga routine. This is followed by seva. We were chopping vegetables for the Western cafe. There are various jobs like folding sheets, making pizzas, sorting the recycling etc.
Breakfast is at 10. The general canteen offers South Indian deliciousness like idli and sambar for breakfast, and rice & curried veg or dhal for lunch and dinner. All food from here is included in the price. If you're craving a salad, pay a bit extra for the Western cafe, or the coffee house does a delicious chocolate brownie. There's also an Indian snack house serving up the most delicious dosas and chole bhature (chickpea curry with fried, puffed chapati) I've ever tasted.
The day is yours to fill as you please. Amma holds darshan (marathon hugging sessions) on most days, and there are also classes in yoga, Indian classical music, the Bhagavad Gita, cooking etc. Many of the inmates had chosen to do Pancha Karma, a strong six-week cleanse, at the Ayurvedic clinic. There are also lots of shops on site, selling everything from white clothing (which is encouraged in ashram premises) to Amma dolls to organic coconut oil. And of course, there's always plenty of seva to do if you choose.
The day closes with group meditation on the beach at sunset, another dose of chanting the Lalita Archyana followed by bhajans and dinner.
Despite avoiding the hugs, we really enjoyed our time at the ashram. It can get very hot depending when you visit, but there are ceiling fans in the rooms, the inmates were lovely and we really enjoyed the peace and chilled out of the place. I'd love to visit again.
Sat nam x