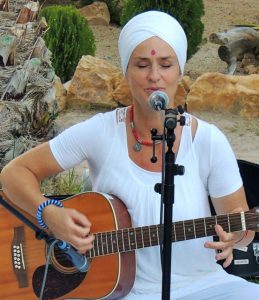 A few weeks ago, the lovely Siri Sadhana told us about her journey as a yogi and mother to 13-year-old Aloka (click here to read the full interview). So now, meet Siri the wild-spirited singer…
What did your life look like before you became Siri Sadhana?
I was fortunate to find a spiritual path in my teens. I fell in love with Tai Chi Chuan at 17 years old, and was teaching it in my 20s alongside my theatre career. Captivated by the poise, balance and grace, Tai Chi Chuan was my soul dance for nearly 20 years. I was a performer, a seeker, I liked to party, to socialise, dance and travel. I was deeply interested in human behaviour and expression. Theatre developed in me an enquiry and love of psychology and people. I studied counseling, NLP, life coaching, mytho poetic and indigenous teaching. In 1998 I began working with Sobonfu Somé, one of the foremost voices in African spirituality sharing the ancient Dagara tribes' wisdom. I continue to organise ritual and healing trainings with her, like the two-year Ritual Healing Village Training in the UK.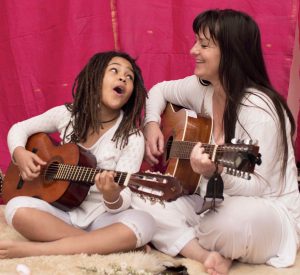 Have you always been a singer?
I trained in physical theatre in Paris with the innovative master Jacques Lecoq before he died. I learnt so much about the geometry of movement, rhythm, dynamic and spacial awareness. It awakened a playfulness that opened wild creativity and expression and singing was part of that. Singing was always a part of my life (not that I trained). I just did it. I like to work experientially. Singing was an anchor. Through celebration and party, to heartbreak and despair, I learned to move my emotion into expression. As a teenager, friends would pull out their hair with frustration – I used to play a game: if anyone spoke a theme or word in a sentence that I recognised was part of a song, I used to burst out singing. Lots of opportunities to sing arose in the theatre. I was blessed to play Anita in West Side Story at the age of 19. I got to embody this incredibly sassy character, to sing and dance with a full orchestra. Anita ignited a profound passion inside. Still today Bernstein's music speaks to my soul. The timeless message of how love can be born out of conflict and that death is ever-present is portrayed so masterfully in his score.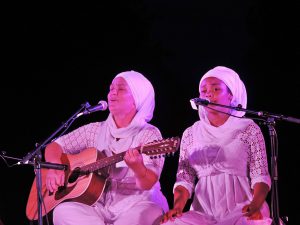 How has kundalini yoga influenced your music?
It's now all about heart. I used to sing a lot of jazz, blues, soul. I busked, sang in bars, clubs, cabaret. I used to connect more to the pain, and now I connect to heart and joy. I supported myself while training in theatre, through busking and singing on the Metro. My focus both with music and theatre was a search for an authentic place within, to project and reach an audience.
The kundalini mantras are formulas that are encoded. Given by enlightened saints and gurus, we get upgraded in our participation. We cut the subconscious habits, our stories get interrupted and rearranged. Through the rhythm, pronunciation and vibration we are elevated into the communal and shared experience. It's alchemy. As we chant and drop into the heart we stand on the bridge between matter and spirit and can start to live more fully in our truth. Clearing the subtle anatomy systems opens that vast space, we resonate, uplift, and together we come! The music, chanting and kirtan is this tremendous communal experience, performance becomes obsolete, as we focus on a higher offering, through communion we get to the union. In devotion I can get out of my own way, align, and share love of this technology. We change chemistry with any music. Yet spiritual music takes our transformation to the next level. I share chanting and run an accapella singing group. I am always blown away with the power, transformation and possibilities we reach through singing and music.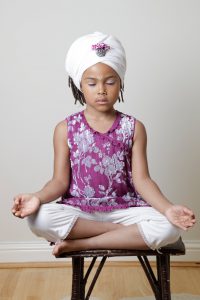 Which is your favourite CD out of the five that you've released?
Alokas Grace holds a special place, cause it was dedicated to my daughter. We sing together on all five CDs. A particular favourite I love to sing with Aloka is Bountiful Beautiful And Blissful. When we harmonise together, I melt. Singing with her deepens my faith. This CD was also produced by a great musician friend Rob Lee. I used to perform with Rob 20-something years ago in theatre and cabaret – he is an inspiration to me, and fun to work with. Working with some people in life becomes more than a pleasure: that's Rob! He is a wizard on piano, great voice, beautiful guitar, skillful violinist, percussionist ect. His massive generosity and impeccable ear is pure joy.
Siri Sadhana's five albums are available on her website and from iTunes. You can catch her teaching classes all across London. Visit sirisadhana.com for details