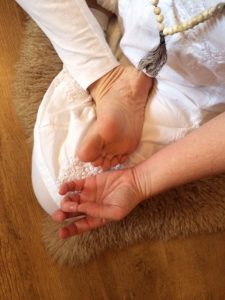 Those who follow this blog will remember that my first 40 days of Kirtan Kriya was a bit of a bumpy ride. It was six, long weeks of a gnarly, confrontational reality. This meditation coughed up so much tough stuff for me. It wasn't comfortable. It wasn't fun. But us yogis know that it's in these ugly, ouchy places that real healing can happen, and so I stuck with it…
The good news is, the first 40 days were the 'ripping off the plaster' phase. Life got way easier after that. No more poltergeist exes, no more 'bullying' scenarios, no more feeling like karma was looming over me with a whip. Instead, an exciting thing happened. Kirtan Kriya reignited a deep love for my morning practice.
It's a big admission for a yoga teacher to make, but my days of bouncing gleefully out of bed onto my sheepskin at 4am have long gone (were they ever there?!). On some mornings, especially when it's freezing cold (the joy of London in winter), I silently scream when my phone chimes me awake. But I am blessed with some pretty hardcore discipline, so I turf myself out of my nest regardless. What I hadn't realised was what a box-ticking process my daily practice had become.
So now, 120 days into Kirtan Kriya, and I still go through the usual struggles, but there has emerged a real tenderness, a softness and a gratitude for my time on the mat that I'm a little sheepish to admit had become a little thin on the ground. This 31 minutes of Sa Ta Na Ma is exquisite, an absolute balm for my soul, and it delivers a real connection with 'me', beyond all the stories (read the first 40 days). And I still feel and deeply connect to its clearing, cleansing qualities.
Leaping out of bed with gleeful anticipation is perhaps an overstatement, but there has blossomed such a sweet appreciation for my practice. It has reminded me exactly why this morning window to commune with something deeper and much, much bigger than the noise and drama of my daily life is seriously the number one priority. Thank you Kirtan Kriya, I bloody love you! And I it's a love affair I'm not ready to give up just yet… see you for the next instalment.
(click here for the 240-day update)
Sat nam x